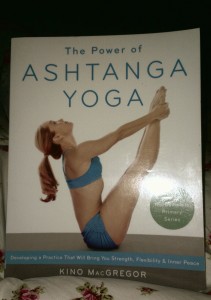 I förrgår skrev jag om yogaböcker och tog upp Ulrica Norbergs "Yoga en kvart om dagen". Idag tänkte jag fortsätta med temat böcker. För någon vecka sedan så hämtade jag en annan yogabok på biblioteket som jag hade beställt, nämligen Kino MacGregors bok "The Power of Ashtanga Yoga".
Kino MacGregor är väldigt inspirerande och jag tittar ofta på hennes Youtube-kanal. Här kan ni lyssna på henne berätta kort om sin yogaresa:
[youtube]https://youtu.be/cNyXxUGM-UE[/youtube]
Jag har inte hunnit läsa så mycket i Kinos bok ännu, men har planerat att göra det i den här veckan. Tyvärr är den i svartvit och det gör att den inte är lika rolig att bläddra i, men hon är otroligt inspirerande ändå.
Inspiration behövs för att hålla uppe motivationen och orka i längden. Yogan ger mig väldigt mycket, men det finns ändå dagar, då jag har svårt att motivera mig. När jag väl kommer igång så känns det dock mycket bättre. Jag har som mål att yoga åtminstone en liten stund varje dag och jag försöker, men ibland går det bara inte att få ihop. Det kan vara dagar, då mitt andra arbete har tagit mycket tid eller dagar jag tillbringat med min familj. Det går inte att alltid vara 100% och det får man bara acceptera. Jag har dock fortfarande som mål att yoga varje dag, precis som jag har som mål att meditera varje dag också.
Jag ser fram emot att läsa Kino MacGregors bok och skall berätta om mina intryck imorgon. Innan jag slutar vill jag dela några av hennes ord, som jag tycker är fint skrivna:
"The practice of yoga is a decision to believe in yourself against all odds. It is a choice you make to walk down a self-empowering path toward your own liberation from suffereing. As you train your mind to remain steadfast, you unravel cycles of misery and follow a path that leads toward true freedom."  (MacGregor 2013:XV).
Namaste,
Johanna